Take some time to visit these sites.
We'll still be here when you get back.
---
Wiccan and Pagan Sites

Arn Driacht Fien
Those of us who cannot pronounce it say (Android Fang) Neo-Druids. An organization following the basic tenants of druidry, also the opportunity for classes and serious study.

College Pagans
If you have questions about College pagan life.

Association of Smith PagansUUSE CUUPS
This is the Smith College Pagan Student organization located in Northampton, MA.

Covenant of the Goddess
COG , Correspondence Officer
P.O. Box 1226
Berkely, CA 94701 USA
E-mail: info@cog.org

Earth Spirit Community
P.O. Box 723
Williamsburg, MA 01096
E-mail: earthspirit@earthspirit.com

Orphan Pagan Society
Contact Persons: Mike and Lance
Telephone: 203-932-6203
Email: ops@pobox.com


Pagan Community Church
P.O.Box 5622
Bridgeport, CT 06610
(203)-373-9494
Email: PaganComCh@aol.com



The Pagan Organization for Diverse Spirituality


UConn Pagan student organization
E-mail: Entropy13@Aol.com

4 Circle Drive
Monson, MA 01057
E-mail: Jehanna



Circle of the Blessed Cauldron
New London CT
email: Rowenna




Circle of the Blue Flame
New London, CT
J.Broomhalle 860-443-1666 evenings


e-mail: chc_ct@geocities.com




Circle of Light
P.O.Box 244
Voluntown, CT 06384




CWPN Gay Men's Study Group
Stamford, CT
E-mail: George
Pine Meadow, CT 06061
E-mail: Dawnblaze


Dragon Mountain Grove - TDB
112 Merrill St.
Hartford, CT 06106
E-mail: John Moore




Fanscifiaroan Church of Wicca
P.O.Box 145
Marion, CT 06444
203-621-3579

Lady of the Brook/ New Wiccan Church
P.O.Box 11
Plainfield, CT 06374


E-Mail: Tyrnenn




Myristan Circle of Chiaroscuro
61 So Main St.
So Norwalk, CT 06854
203-838-3392
e-mail: Ainsley

The Hermetic Order of Thricegreatest Hermes

(THOTH)
Oakville, CT




Ouroborous Isis Gnosis (ObIG)
New Haven, CT
E-mail: Chuck




The Pagan Community Church
Bridgeport, CT

Ravynswoode Grove
200 Elm St., #323
West Haven, CT 06516
203-933-5452




Shadowpath Grove
P.O.Box 122
North Windham, CT 06256

Slavic Study Group - Chiaroscuro


c/o Avalon
9 North Main St.
South Norwalk, CT 06854 stepchild

Temple of Bast - Chiaroscuro
New Milford, CT
E-Mail: Jasmine




Thistledown Coven
Box 1153
Carmel, NY 10512




Twilight Circle of Chiaroscuro
Milford, CT 06460
e-mail: Brian or Cori




Twilight Fire
P.O.Box 115
Hartford, CT 06141
E-Mail: Twilight_Fire@yahoo.com


E-mail: Lisa




Unitarian Society of New Haven-CUUPS
700 Hartford Tpke.
Hamden, CT 06517-2214





153 West Vernon St
Manchester, CT 06040
email contact: Nightsong

Pioneer Valley Pagan Association
Western Massacusetts Pagan Networking group.

Society of Elder Faiths
Legal Pagan church founded by five Wiccan covens; Boston based, but holds some gatherings in Western Massachusetts.




Amber's Mystical Wiccan World: Awesome Wiccan site, great for beginners

Ask Hagatha
A group of experienced Witches answer questions and provide insight.

Avatar Search - "The Search Engine of the Occult Internet"

Beaufort House
English Traditional Witchcraft. Historical information, focusing mainly on matters of Gardnerian practice.

Catalyst's Point
Funny and insightful Wiccan essays.

Christian tolerance Links

Connecticut Wiccan and Pagan Resource Pages

Copper's Cove
Original essays, advice for beginners, and a mailing list that you can join.

Connecticut Pagan Online Mailing List

Crescent Moon Society
Student Pagan organization at Westfield State College, Westfield, MA..

The Door Opener's
Wiccan Resource Listing

Earth Religions Assistance Legal Network
ERALN works to support the religious freedom of Earth
Religions entangled in legal problems around North America.

Egypt, The MythologyUUSE CUUPS
Complete collection of ancient Egyptian myths.

Epona's Celtic World
Epona has created a site on Paganism and Celtic interests.
A great contact point for Faery Wicca.

Gods, Goddesses & Myths
Celtic myths & Arthurian legends.

Joan's Witch Directory: The European Witch Trials
Scholarly site featuring a good collection of original and source materials on the Burning Times.
The Maine Pagan Resource Page
Listings of events and gatherings in New England.
Southwest Massachusetts Pagan Homepage
Military Pagan Network
Serving the networking needs of the military Pagan community. They educate and support those that are faced with harassment or discrimination and provide resources when moving to new areas.
Moonshadow Institute
P.O.Box 119
Oneco, CT 06373
401-397-8857
Myths & Legends
A giant links page to more mythology & folklore pages then you could explore in a lifetime - You CAN find it here!
Northwestern Conn. & Mass. Events Calendar
Pagan Federation
"The Pagan Federation, founded in 1971, works to make Paganism accessible to people genuinely seeking a nature-based spiritual path."
Pagan Profiles
Actually, an international assortment of Pagan contacts, but extraordinarily well-sorted geographically. Search the database by state. Over 3,000 listings; over 100,000 searches to date.
Pagan Best Of The Web
The most venerable Pagan award site on the web. They take nominations from visitors for their awards.
Pagan Jokes Page
This page contains a tremendous collection of Pagan jokes. Be ready to be offended and amused.
Pete's Helpful Pagan Site
Lists contacts and events in New York, New Jersy and Connecticut. Regulary updated.
Protean Tradition Page
A site produced by ex-Gardnerians. Very informative.
Religions Scholars Network
Nature Religions Scholars Listserve
email contact: Nightsong ,.clifton@uscolo.edu
The Ring of Troth
European Asatru site.
Roman Forum Forum Romanum
Educational site on all things Roman.
Stone Pages
This is the most complete guide to European megaliths and archeological sites.
The Troth
Official Asatru Website. Links to Heathen and Heathen friendly sources.
Weaving the Web...Pagan Contacts: Connecticut
Whispering Stones Pagan Community: Connecticut
The Witches League for Public Awareness
The Salem based organization founded by Laurie Cabot.
The Witches' Voice
The single best site on Wiccan and Pagan life on the World Wide Web.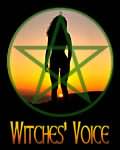 The Witches' Voice White Pages
Printable versions of legal reference documents and form letters.
The Witches Voice Pagan links on the Web.

Witches of the World Connecticut Page.
Email the Witches' VoiceWebmaster
The Witches' Voice Web Pages for Finding Help
The Witches' Voice Child Custody/Divorce Related Websites
The Witches' Voice: Pagan Divorce—Child Custody Page
Wren's Nest
Updates on discrimination, legislative alerts and activism on Pagan issues around the world.
Spirals
University of Massachusetts Pagan Student Organization in Amherst, MA
What Wicca is and is Not
Get the FAQs.
Magazines and other publications:
Broomsticks&Cauldrons

Enchante: The Journal for the Urbane Paga

Griffin Grove Inn - A Pagan B&B in Northern Vermont.

Nine Mountain Retreats - Retreat and workshop space with particularly good cuisine. Pagan friendly.

Touchstone Farm and Retreat Center - Yoga, sacred circle dance, organic farming apprenticeships, celebration of Pagan Sabbats, and retreat space rentals.

Copper's Cove
A very creative and entertaining site. A mailing list that visitors can join.

Fellowship of the Earth - Resources for Teens
Catala SilverMoon 's answer to the legal problems that can come up for an adult who corresponds with underaged Pagan seekers was to create this site: an experienced adult Witch's best advice to Teen Pagans.

Ice Maiden's Cavern
Info on magick, meditation, spells, auras, familiars, etc., and there are lessons on Wicca, E-Pals, Pagan post cards, links to cool sites. You have to be a teenager to join the webring.

Sequana's Realm
Has an online Book of Shadows, meditations, and lots of basic info from a Teen Pagan's personal point of view.

Teen Pagans Online
Online teen Pagan meeting places. Poems, essays, a mailing list and chat available, as well as some good information on Paganism and the Craft. All of it by teens, for teens.

The Teen Wiccan Page
An individual web page, quite personal in tone. Environmental ideas, reading lists, links, and one especially relevant essay, "How do I tell my parents"?

Teen Wiccan Page
The two teen authors of this site give special consideration to the limited budgets of teens. There is a whole section on inexpensive substitutes for hard-to-get tools for Wiccan practice, as well as essays, pen pals and a chat room.

The Witches' Voice Teen Witches Pages
A vast collection of articles and resources relevant to teen and young Pagans. Strongly recommended.
TeenWitch.com
An amazing collection of info for teens on Witchcraft and Wicca. You have to see it to believe it.

Yahoo! Clubs: New Moon Groves
A chat room and bulletin board serving 184 members. restricted to persons under 21. A good resource for isolated teens and young Wiccans looking to network.

Stores:
Winthrop, Maine, 04364
207-377-3967
Victoria, BC, Canada VST 5G8


Abyss/Azure Green
AzureGreen, PO Box 48
Middlefield,Ma.01243-0048
So. Norwalk, CT 06854
203-838-5928
e-mail: Ainsley


The Cosmic Cat
30 Front St
Putnam, CT 06260
860-963-9500
e-mail: fyrewitch@aol.com




Crystal Wand Holistic Care
Eagle Plaza
481 Wolcott St.
Waterbury, CT 06705

West Haven, CT 06516
203-932-1193
e-mail: Sambina




Enchantments
546 Main St.
Torrington, CT 06790
(860) 489-9669

Gaian Goods
222 Bradely Ave Bldg 8, Unit 8B
Waterbury, CT
203-757-0102




The Goddess Shoppe
707 Main St.
Manchester, CT 06040
860-533-1466


The JBL Web Page
Statues of Pagan deities, books, t-shirts, and Pagan gifts! A portion of the profits go to worthy causes around the world.

Knight People
228 William St.
Middletown, CT 06457
860-347-3220
Killingly, CT 06243
Milford, CT 06460
203-876-8832
e:mail: Beverly

Mysterious Wonders
25 Park Street
Route 8
Adams, Massachusetts 01220
(413) 743-9176
Retail store with online catalog.

Purple Moon
67 Lake Ave.
Danbury, CT 06810
860-589-2252

The Space-Crime Continuum
92 King Street
Northampton, MA 01060 Phone toll-free 1-888-844-8924 (That's 1-888-UGG-TWAG!)
South Lee, MA, 01260-0330 67
or visit at 1385 Pleasant St. (Rt 102), South Lee, Ma.
wowbyn@vgernet.net

American Indian Herbalism Links

An Herbal
A site dedicated exclusively to herbs.

The International Center for Reiki Training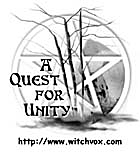 The Creation of Unity City for ALL PAGANS

For news and views on social sciences, religion, feminism, animal rights, gay-lesbian, philosophy, politics (Right Wing Watch), art and literature, green news and wicked humor.

A strong site for solid information.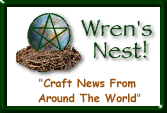 Bi-lingual (Irish/English) site
Mr. Lee's Earthquake Prediction Page. Prof. Lee's earthquake prediction page. He uses the mythology and craft of the ancient Hawaiian Kahunna to predict quakes with surprising accuracy. Pele still rules supreme.

Frodo's Mermaid Haus
Everything, and I mean EVERYTHING about Mermaids. Great site for the kids too.
PETA-People for the ethical treatment of animals

---
Copyright © 1999 - 2000 by Dawnblaze. All rights reserved.
Revised: 13 Dec 2001 17:03:35 -0500 .
Produced by Arachne's Webs ©