Picture Credits
This is a listing of photo credits for the Dawnblaze web.
---
Pictures
"Embrace", Joy Day. 1995. Sci-Fi and Fantasy Clipart. Cambridge, Massachusettes: CD Titles.
---
"Images of the Goddess"
illustration courtesy of,

---
Elemental Images courtesy of Witchway Graphics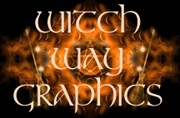 ---
Leafy Pentacle and Elemental signs
Copyright © Robin Wood 1997, used with permission.

---
Lady and background images on all pages, Fairy on Dawnblaze page and the Floutist on "The Path",

Tremendous art, themes, graphics and web art.
---
Halloween Graphics
Courtesy of CHAOs Designs
Artwork on "Images" pages attributed with the image.
---
Copyright © 1999 by Dawnblaze. All rights reserved.
Revised: 13 Dec 2001 17:03:31 -0500 .
Produced by Arachne's Webs ©