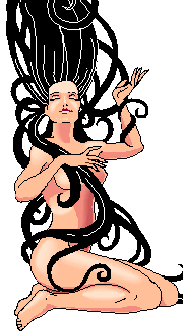 Dawnblaze
You are visitor #
The following article was reprinted for purely "Historic" reasons. The publications listed have obviously changed their rates since 1991. Sadly, some of them are no longer in print. You can find information on some current publications in the
FAVORITES
section of this website.
A Brief Look at the Pagan Press
by
Jehana Silverwing
As we scry into the glass towards the future, one thing is certain. We will still need to communicate with each other. Pagan and Wiccan publications aren't going to suffer for this need. Our community has been built, and will continue to be built, by small press publications which often devote space to many of the issues of community-building and networking.
Here is a brief look at some of these newsletters and periodicals. Each has its own specific and valuable flavor. This look is by no means inclusive or complete – many, many Pagan periodicals are out there and I have not seen a recent representative sample of all. So, don't be alarmed if your favorite isn't here. All prices for American delivery -- write to enquire about foreign rates.
ENCHANTE: The Journal for the urbane Pagan: Is available quarterly at $13/year, or $3.50 per copy. Currently a full-sized journal, it expanded from its original digest-size with last summer's God and Goddess Swimsuit Issue. One of the most exciting features is the ongoing "All My Avatars", the Pagan soap opera detailing the schemes of Agate Blackshadow and cohorts in an alternate, Pagan, universe. Portions have been performed at festivals and other places. The current Imbolc issue is the Tarot spectacular issue --featuring essays on designing decks, self-learning from cards, poetry inspired by cards, and a lengthy and interesting discussion on The Fool. Writing style is high in this journal, and layout is impressive. The editor is the urbane John Yohalem (Brightshadow), a truly bicoastal Pagan (NYC and Seattle). Enchante is at 30 Charlton Street, #6F, New York, NY 10014.
FIREHEART: $7.00 for two issues (one year); sample copy is $4. This is a slick, glossy professionally laid-out publication (their ideal appearance seems to be not unalike Gnosis or Shaman's Drum) that is a project of EarthSpirit Community. They hope eventually to move up to four issues a year. There's a valuable and on-going eight-part series on the Eight-Fold Path, and panel discussions with well-known Pagans on diverse issues affecting Pagan Community. There's always an interview -- upcoming I understand is one with Doreen Valiente. I'm very impressed with the quality of this journal. P0 Box 462, Maynard, MA 01754-0452.
GREEN EGG: Published quarterly by Nemeton (the folks at Church of All Worlds) for a price of $13/year ($3.75 per issue), these folks are now on issue BB -- there was a long hiatus in publishing during the eighties. Recent issues have included interviews with Laurie Cabot and other figures, material on anti-abuse definitions, and, more usefully, material on dysfunctional families and groups, as well as comic relief, the occult system of William the Black, and a very active and diverse lettercolumn. There's an active contingent of ferret-lovers in evidence here as well. And unicorns, of course. The magazine is a good sturdy standby, with color graphics on the cover and impressive interior art. C/o CAW, P0 Box 1542, Ukiah, CA 95482. Make checks payable to Green Egg.
HARVEST: Published 8 times a year, with charges of $15 per year (bulk mail) or $20 per year (first class). Somewhere chasing around my home I can dredge up the complete press run. The latest issue (Vol. 11, No. 4, Spring Equinox 1991) is a full-sized 34 pages. Networking lists are excellent, especially for the Northeast area, although they are by no means geographically limited. "Darcie's Current Events" focuses on awareness of Pagan and Wiccan interactions (for ill and for good) in the regular media. This time around there's an excellent letter concerning the Gulf crisis, with implications concerning tolerance which go well beyond that specific war. Morven, the editor, is an Alexandrian Witch who brings to her task both dedication and diverse writers from within the Pagan community(ies). P0 Box 378, Southborough, MA 01772.
MOONRISE: $3 per issue, four issues per year. The latest issue (Vol. 2, No. 4, Spring 1991) is 50 pages, plus covers, and is digest-sized. Its only disconcerting formatting feature is the fact that articles are often continued on non - consecutive pages. Articles and discussions are stimulating and thought-provoking, and don't shy from controversy. There's some nice material in this latest issue on treating rites of passage as real passages with relevance to the way we live our lives. Moonrise also contains many interesting book reviews, often with unique angles. The editor, Lewis Stead, is associated with the western Massachusetts network Pagan Valley Web. P0 Box 506, Kadley, MA 01035.
A couple of group-oriented newsletters, geared more for informing their membership, but sometimes containing other info of interest:
The COG Newsletter: A donation of $20 or more gets you eight issues of the newsletter for Covenant of the Goddess, a legally recognized Wiccan church. Sample copies are $3. Recent issues have articles focused on Pagan/Wiccan news of import, privacy, and the Gulf war. They also supply an application for handfasting certificates which may be used for legal or non-legal unions -- the nice thing about the latter is that the certificates are open to recognizing gay, lesbian, or multiple partner unions. Recently an issue was devoted to the AIDS crisis. There's also always CoG-specific news as well. Editors (currently John Yohalem) change yearly. CoG's address is: CoG, Box 1226, Berkeley, CA 94704.
EARTHSPIRIT COMMUNITY NEWSLETTER: Essential it you want to be notified about Earthspirit events, this newsletter won't be as important to others. There's always (it appears) more letters than articles --currently the debate regards the pros and cons of sending EarthSpirit Community donations to assist them in their work, along with the question of sending donations specifically to the main people associated with ESC, which makes for interesting reading if nothing else. General membership ($10) in ESC entitles you to the newsletter. Higher levels of membership ($20 or more) also allows you small discounts on some events and festivals. P0 BOx 365, Medford, MA 02l55.
Copyright © 1991, 1999 by Dawnblaze. All rights reserved.
Revised: 04 Jan 2002 06:13:30 -0500 .
Produced by Arachne's Webs ©