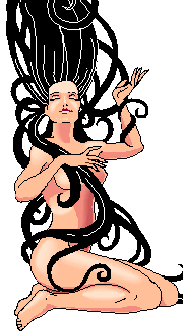 Dawnblaze
You are visitor #
THIS IS A POLITICAL ACTIVIST ALERT !!!
2/3/2000
KANSAS SEEKS TO PASS ANTI-NUDISM LAW
WOULD HAVE DIRECT IMPACT ON PAGAN SKYCLADS ! ! !
In the state that has essentially banned the teaching of evolution in
its classrooms, Kansas has recently proposed new legislation that would ban and prohibit the practice of naturism (nudism) and any facilities associated with it, as well as the practice itself even when in the privacy of one's own home. An unprecedented move, various municipalities are seeking to pass similar legislation in this state.
Of note is the clause that defines "nudism" which states, "the act of a
person or persons congregating or gathering in the presence of one or more persons with such person's or persons' genitals exposed as a form of social practice".
With the exception of one other state that has an outdated law
regarding the mere discussion of nudism (and likely easily ruled unconstitutional when eventually challenged) this is the only state that actually sought to ban the nudist practice.
In theory, skyclads gathering on any property or home could be held
responsible under this law as well as a likely target for its usage.
IF YOU DON'T GET INVOLVED SOON THERE WON'T BE ANY FREEDOMS LEFT TO DEFEND ! ! !
The Naturist Action Committee (NAC) a political proactive organization

which oversees the interests of the social nudist movement is expected to offer a statement and advisory on this piece of legislation in the next day or two.

The home page for the Naturist Action Committee is at:

http://www.naturistsociety.com/NAC/

The mirror and archive for such postings may also be found at:

http://www.tiac.net/users/nat/alert.html

Permission granted to post this notice to other lists, boards, and

other media.

The text of the bill as introduced follows.

~~~~~~~~~~~~~~~~~~~~~

Session of 2000

HOUSE BILL No. 2726

By Committee on Local Government

1-27

AN ACT concerning common nuisances; relating to nudist camps, clubs or

buildings.

Be it enacted by the Legislature of the State of Kansas:

Section 1.

(a) The following activities are hereby declared to be common

nuisances: (1) The conducting, maintaining, participating in, carrying on or engaging in the operation of any nudist camp, club, building or place used to practice nudism, and all means, appliances, fixtures, appurtenances, materials and other property used for the purpose of conducting, maintaining or carrying on of such practice. (2) The conducting, maintaining, participating in, carrying on or engaging in the operation, while in the nude, of any musical or theatrical performance or sporting event and all means, appliances, fixtures, appurtenances, materials and other property used for the purpose of conducting, maintaining or carrying on of such performance or event.

(b) The provisions of this section shall apply to any nuisance described in subsection (a) which is located within five miles of any property zoned for residential use.

(c) Any person who permits, maintains or assists in maintaining such common nuisance is guilty of a misdemeanor punishable by imprisonment for not more than one year or by a fine not exceeding $25,000, or by both. If the court finds that the owner of real property knew or should have known under the circumstances of the maintenance of a common nuisance on such property, in violation of this section, and did not make a bona fide attempt to abate such nuisance under the circumstances, such property shall be subject to a lien for, and may be sold to pay all fines and costs assessed against the occupant of such building or premises for any violation of this section. Such lien shall be enforced immediately by civil action, in any court having jurisdiction, by the county or district attorney of the county wherein such building or premises may be located. For purposes of this section, evidence of a bona fide attempt to abate such nuisance by the owner of the property shall include,! but not be limited to, the filing of a written report, by such owner or at such owner's direction, to the local law enforcement agency that the property is suspected by the owner of the property of being used in maintaining a common nuisance as set forth in K.S.A. 22-3901, and amendments thereto, in violation of this section. If a tenant of any building or premises uses the building or premises, or any part thereof, in maintaining a common nuisance as hereinbefore defined, or knowingly permits such use by another, such use shall render void the lease under which the tenant holds, and shall cause the right of possession to revert to the owner or lessor, who may make immediate entry upon the premises, or may invoke the remedy provided for the forcible detention thereof.

(d) The county or district attorney in the county in which such nuisance exists, or is kept or maintained, may maintain an action by injunction, in the name of the state of Kansas, to abate and temporarily or permanently to enjoin such nuisance. The court shall have the right to make temporary and final orders as in other injunction proceedings. The plaintiff shall not be required to give bond in such action. Upon final judgment against the defendant, such court shall allow the attorneys for the state of Kansas a reasonable fee for prosecuting the action which shall be taxed as costs and also shall order that such camp, club, building or place of any kind shall be closed and padlocked for a period of not less than three months nor more than two years, and until the owner, lessee, tenant or occupant thereof shall give bond with sufficient surety to be approved by the court making the order, in the penal sum of not less than $10,000, payable to the state of Kansas, and conditioned upon compliance with the provisions of this section and that the defendant and the defendant's surety will pay all fines and costs assessed against the defendant for any violation of this section. If any condition of such bond is violated, the whole amount may be recovered as a penalty for the use of the state of Kansas. In such suit on the bond, both principal and surety may be joined as party defendants, and satisfaction may be had from either of them. In such action a notice to nonresident defendants may be given by publication as authorized by law under the code of civil procedure, or upon their agents for service in this state, if any.

(e) As used in this section, 3nudism2 means the act of a person or persons congregating or gathering in the presence of one or more persons with such person's or persons' genitals exposed as a form of social practice.

(f) The provisions of this section shall not apply to: (1) The exposure of the genitals for medical or surgical treatment or to determine the need for medical or surgical treatment or to cleanse the genitals if such treatment or cleansing is performed by a person licensed by the state board of healing arts to practice medicine and surgery, by a professional nurse, as defined by K.S.A. 65-1113, and amendments thereto, or by a person under the direction of such nurse or person licensed to practice medicine and surgery; (2) persons who are married to each other. Sec. 2. This act shall take effect and be in force from and after its publication in the Kansas register.

Supplied by and published with permission from,

Dennis Kirkpatrick

Copyright © 2000 by Dawnblaze. All rights reserved.
Revised: 04 Jan 2002 06:13:28 -0500 .

Produced by Arachne's Webs ©